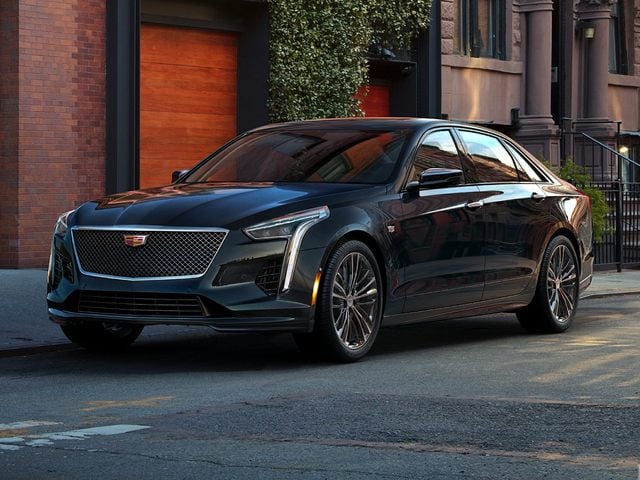 With a brand like Cadillac, luxury and power meet like no other. The Cadillac name rings true that performance and engine muscle is a central theme. Strong and durable, Cadillac brings recognition for power that few brands can match. When paired with the V-Series package, high performing luxury meets a new standard.
What is the V-Series?
The V-Series is the Cadillac answer to the call for even more power in their models, as years ago the brand recognized an elite upgrade was needed beyond the standard lineup. With the superior performance capability and engineering mindset put to the task, the V-Series was born.
The V-Series incorporates high-tech performance features and more powerful engines to deliver a roar. V-Series models come with important attributes such as Brembo® Brakes, which deliver responsive braking with a brilliantly engineered six-piston front, and four-piston rear, which utilizes vented rotors for consistently powerful braking. What does this translate to? Superior heat resistance, increased rotor life, and solid pedal feel.
The sedans and coupes that make up the V-Series are some of the fastest sport vehicles in the market. Upgraded engines, functional cooling, carbon fiber aerodynamics, and more contribute to top-tier racing potential. However, the V-Series is more than simply performance dimension enhancement, as luxury incorporates the performance series as well. Available on the CADILLAC CT5-V and the CADILLAC CT6-V are Recaro Performance seats which hare sculpted to your comfort and control. Further, an available Performance Data Recorder records HD video, performance, and audio to help you analyze your driving performance.
The CADILLAC ATS-V
This powerful vehicle sets the coupe standard for what capability can be. A high-performing 3.6-liter Twin Turbo V6 engine produces an outstanding 464 horsepower and 445 pound-feet of torque. It has incredible strength and lightweight titanium connecting rods, as well as titanium-aluminide turbine wheels that deliver low-inertia, and a charge-air cooler to help provide a burst of just 3.8-seconds to go from 0-60 mph.
The CADILLAC CT5-V comes with a host of features that help it excel at a V-Series performer rate with features such as:
Magnetic Ride Control
Performance Traction Management
Michelin® Pilot® Super Sport Tires
Racing-Inspired Cooling Systems
Multi-link MacPherson Strut
Electronic Limited-Slip Differential
When you add this to the silky coupe exterior, you know the performance meets luxury craftsmanship that a Cadillac is helped too.
The CADILLAC CT6-V
The sedan counterpart to the coupe, a larger ride exists in the CADILLAC CT6-V. Perfect balance and precision meet incredible performance with a 6.2-liter Supercharged V8 that offers an astounding 640 horsepower and 630 pound-feet of torque. It's the fastest Cadillac model you can purchase, as features such as Magnetic Ride Control, and Performance Traction Management highlight the excellent capability.
The interior is lined with incredible accents and leather options to match a luxury interior towards the immense capability. Even on the exterior, Cadillac makes a statement as 19-inch forged premium painted alloy wheels with Michelin® Pilot® Super Sport tires are incredibly graceful to conquer Atlanta streets with.
What's the difference between the coupe and the sedan?
Mainly size and power capability with a different exterior shell compose the difference. This results in a higher starting MSRP for the CADILLAC CT6-V.
Here at our Atlanta dealership, we hope you take the time to browse our V-Series sports lineup in our new inventory. Classic Cadillac has all your needs met and more, and we would be thrilled to introduce you to the legendary power that takes the classic Cadillac conception of muscle and upgrades it to another level.