When you think of large, luxurious, American-made SUVs, two names are sure to stand out above the rest. Both the Lincoln Navigator and Cadillac Escalade have a rich history of providing luxury and opulence to Atlanta drivers, but which model is the best to take home today? We explore what both the 2022 Cadillac Escalade and Lincoln Navigator are bringing to the table so you can make the right decision for your family travels.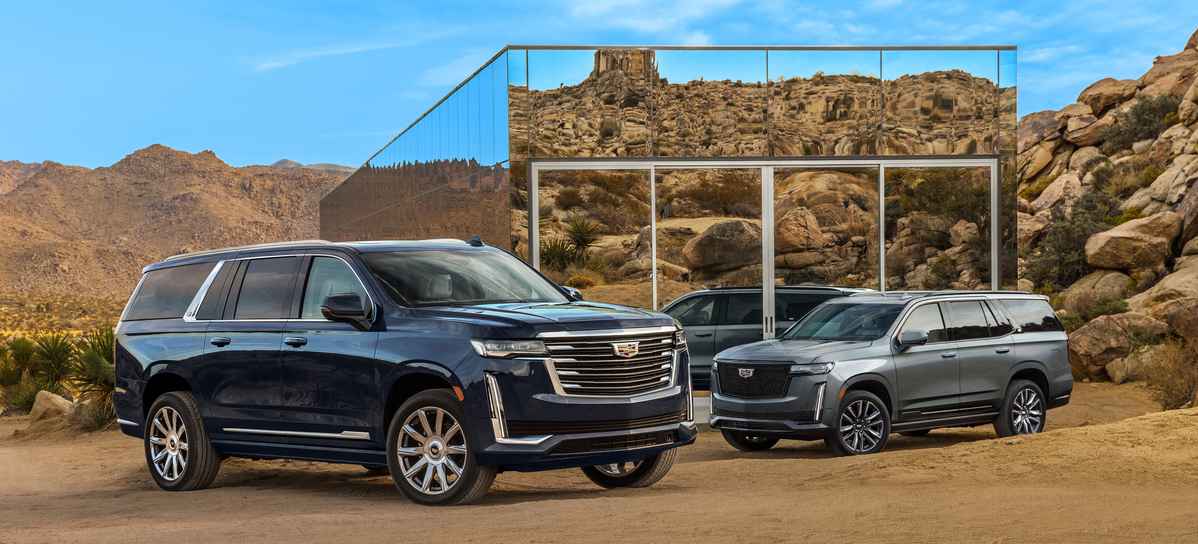 Performance
Under the hood, the 2022 Lincoln Navigator and Cadillac Escalade each provide similar performance figures through incredibly different engine setups. The Navigator comes with a twin-turbo 3.5-liter V6 engine that makes 420 horsepower and 510 pound-feet of torque. Meanwhile, the Cadillac Escalade makes use of a 6.2-liter V8 powerplant that offers up 420 horsepower and 460 pound-feet of torque. While the Escalade slips behind a step on the spec sheet, the smooth power delivery of the non-turbo V8 makes it a much better choice for towing or hauling heavy loads. That means that with a boat or camper in tow, the Escalade will feel less bogged down, so you can climb hills and get up to highway speeds with greater ease.
Cargo Space
While both the 2022 Lincoln Navigator and new Cadillac Escalade are both full-size three-row luxury SUVs, the interior space you'll get in each is vastly different. The Navigator gives you 19.3 cubic feet of space behind the third row, which is respectable considering how many occupants you can fit inside. However, the new Cadillac Escalade dwarfs the Navigator in this respect, checking in at 41.5 cubic feet of cargo room with all seats in place. Doubling the cargo space means every passenger can pack a full-sized suitcase on your next family road trip, and you'll even be able to pick up a few souvenirs along the way.
Passenger Space
You might think that the impressive cargo capacity of the new Cadillac Escalade might mean that the Navigator pulls ahead when it comes to how comfortable your passengers will be in the rear rows. However, the Escalade offers up to 41.7 inches of rear-seat legroom as compared to 41.1 inches in the Navigator. Headroom is comparable as well, with 40 inches in the Lincoln model versus 39 inches in the Cadillac SUV. Interior width is similar in each model as well, with the Escalade measuring 64.6 inches of shoulder room versus the 65.1 inches across you'll find in the Lincoln Navigator.
Safety
These days, most vehicles have similar equipment for safety and driver assistance, and that largely remains true when comparing the Cadillac Escalade and Lincoln Navigator. Both come with forward collision warning, automatic emergency braking, and pedestrian detection to help you avoid heavy collisions in urban environments. However, when you hit the highways, the Escalade is available with a party piece you won't find in the Navigator.
Only the Cadillac Escalade is available with Super Cruise, an autonomous driving mode that allows for completely hands-free cruising on specified roads and highways. You'll see Super Cruise-eligible road highlighted on the in-car navigation screen, so you can easily know when you can activate the system to enjoy a relaxed highway cruise.
Visit Our Dealership for a Test Drive Today!
With the impressive interior space and safety technology of the 2022 Cadillac Escalade, the time is right for you to visit our Atlanta, GA dealership to take one for a test drive. Pay a visit to Classic Cadillac of Atlanta, and see why so many drivers are truly excited to put a new Cadillac Escalade in the driveway in 2022.